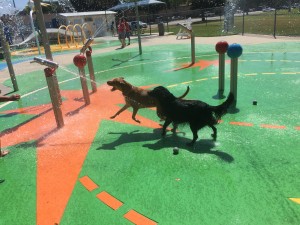 End of the summer doggie splash days are popular where I live in Dallas as they are all over the country now. Large waterparks put on huge events with live music and multiple sponsors to entertain the dogs. Local swimming pools have fundraisers for local dog rescue groups and foster dogs are invited to join the fun. At the end of the summer in August and September there are many choices for dogs to cool off, go adventuring and find new friends.
The Splash Factory in Grand Prairie, Texas is not the biggest waterpark in the Dallas/Fort Worth Metroplex. It's not like one of the huge Hawaiian Falls franchises or the even bigger NRH2O Megawaterpark. But this little waterpark hidden in an older blue collar neighborhood near Downtown Grand Prairie has a style all it's own. There are water guns spraying everywhere almost like giant sprinkler world. Large metal and concrete sculptures dump buckets of waters on running dogs as they pass. Spray cannons shoot out and water geysers shoot up at different times, sometimes at random. Everywhere you look water is dumping, splashing or spraying in one direction or another. Bright colors are pasted all over the ground on waterproof turf to add to the excitement. The splash factory was a water playground made for kids, but dogs are even more excited by the water shooting from guns and other strange objects throughout the park. I brought Cody and Cherokee out to the Splash Factory this year and they had a great time running around the spray. Local people showed up with their playful dogs for the event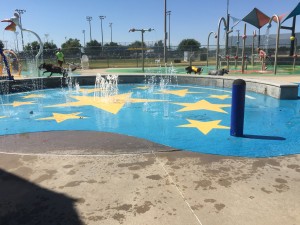 making this like a neighborhood picnic. It wasn't as overwhelming as some of the bigger events so if your dog is a little shy, this might be the event for him.
The Splash Factory is at 601 E. Grand Prairie Road, South of Jefferson and West of Beltline. For more information, their website is here:
http://www.grandfungp.com/aquatics/splashfactory.htm